Automakers Forced to Shift Supply Chain Models
The current supply constraints of the electronics industry have forced automakers to restructure their supply chain models.
According to Bloomberg, the cost of the semiconductor shortage has risen by more than 90%, pushing the total loss of revenue for automakers to $210 billion in 2021.  As the global supply chain remains backlogged, automakers have been forced to shift their sourcing relationships dramatically over the past year.  Many leading automakers have begun forming alliances with chip suppliers in the hopes of circumventing continued supply constraints.
The semiconductor shortage, caused in part by the traditional purchasing approach of these major automakers, has forced them to take a more long-term approach to their supply chain structure.  The most notable distinction in these new sourcing relationships is their communication and commitment.  Automakers can no longer simply pound on the table to get the supplies they need, they must evaluate their demand and commit to contractual agreements.  Given the long-term nature of the shortages, providing more information and committing to these agreements allows suppliers to plan and consistently meet their demand.  This approach also diminishes the need for panic spot buying, which further exacerbates the supply chain.
Some of the large moves to integrate the automotive and electronics industry include:
Mercedes-Benz has organized a direct line of communication with all chip suppliers, including wafer producers in Taiwan.
GM announced it was developing relationships with some of the industry's largest chipmakers, such as NXP and Qualcomm, and has agreements in place to co-develop and manufacture computer chips.
Ford signed a nonbinding agreement with GlobalFoundries to collaborate and develop chips for Ford vehicles and expand domestic chip production.
SEMI and the Center for Automotive Research signed a memorandum of understanding for joint exploration to increase supply chain collaboration between the automotive and semiconductor industries.
Many analysts concede that the shortages in the electronics supply chain will last until at least 2023.  While the chip industry scrambles to build 29+ fabs over the next several years, automakers have adopted several strategies to combat these shortages in the shorter term.  Gartner, a technology research and consulting company, predicts that by 2025, the chip shortage and technology trends will drive 50% of the top 10 automotive OEMs to design their own chips.
Only time will tell how the strategies of these automakers will fare, however, there are measures that buyers of electronic components can take to ease their supply constraints.  Supplier diversification is a simple method to hedge against shortages.  At Aegis Components, our sourcing structure has allowed us to weather the storms of uncertainty in the electronics industry.  Our network of suppliers has received over a decade of scrutiny and evaluation.  Our strategically placed locations around the world allow us to visit and audit the headquarters of a company before making a purchasing decision.  Additionally, Aegis Components has partners with reputable test houses to provide the appropriate inspection and testing of a part before delivering it to our customers.  Our thorough approach to procurement combined with our exceptional logistics structure has allowed us to combat counterfeit electronic components and rival the larger distributors in our industry.
Add Aegis Components to your approved vendor list, and let our team help you make strategic and well-informed purchasing decisions.
Contact us today or click the button below!
Related articles: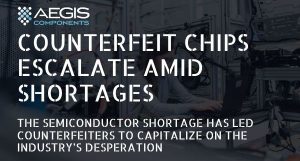 Counterfeit Chips Escalate Amid Shortages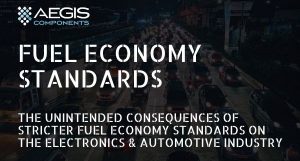 The Unintended Consequences of Stricter Fuel Economy Standards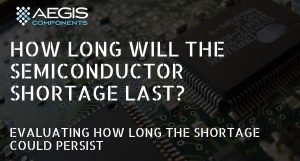 How Long Will the Semiconductor Shortage Last?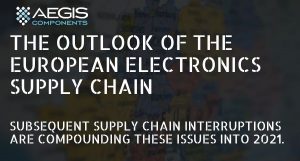 The Outlook of the European Electronics Supply Chain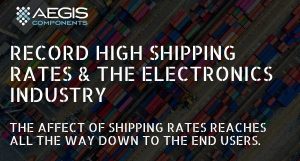 Record High Shipping Container Rates and the Electronics Industry
Connect with us on social media!