Malaysia's extension of its nationwide lockdowns will disrupt the MLCC supply
In the advent of the Delta variant, the governments of Southeast Asian countries, including Vietnam, Philippines, Thailand, and Malaysia have recently instituted strict pandemic control orders.  For example, Malaysia has extended its Movement Control Order (MCO) 3.0, a nationwide lockdown enforced to combat the pandemic.  Since these countries are responsible for a significant portion of MLCC testing, packaging, and fabrication, analysts are anticipating that the MLCC supply chain will face difficulties as soon as this quarter. Under Malaysia's original lockdowns, only around 50% of private businesses were allowed to operate.  Fortunately, the semiconductor industry was excluded from the regulations because of the high revenue that the industry brings to the nation.  However, although the passive component market is a key industry for Malaysia, manufacturers such as Taiyo Tuden, Walsin Technology, NDK, and Epson will face these restrictions.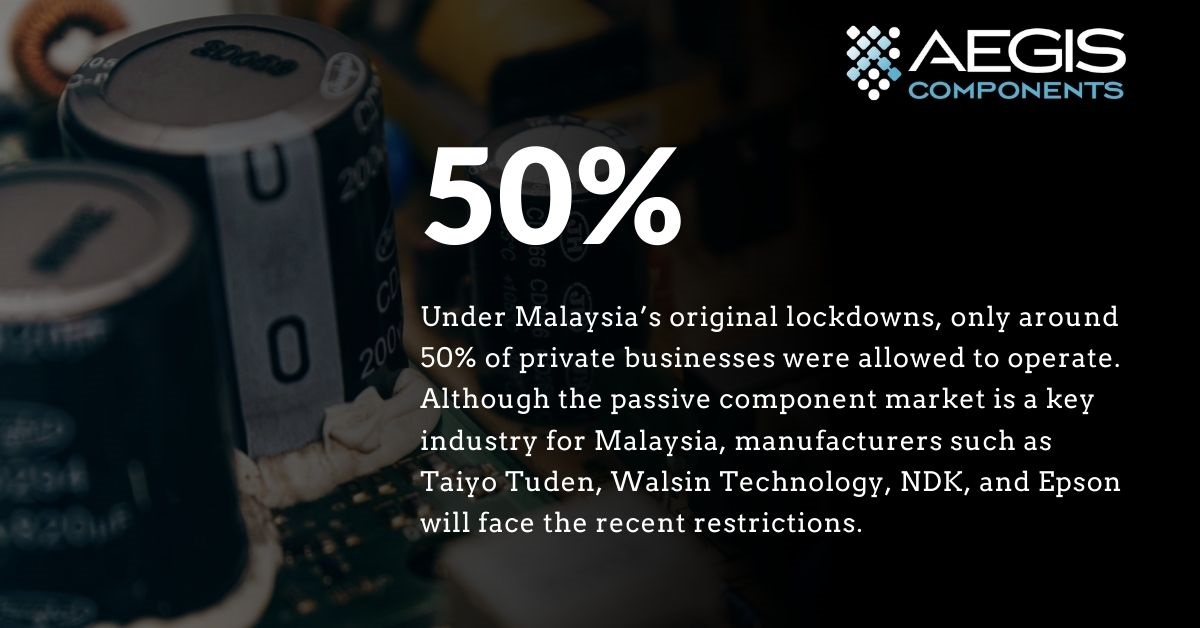 In another instance, the Philippines have begun to re-implement their pandemic related restrictions.  The Philippines is responsible for producing Murata's MLCCs for automotive electronics, Samsung's mid-size, mid-range capacitors, and 35% of SEMCO's total capacity. Under these recent restrictions, lead times in the MLCC supply chain will be affected by limited production, but also by limited transportation resources.  Downstream companies in the supply chain are beginning to adjust their purchasing to circumvent the effects of the shortages.  For instance, Apple began purchasing their MLCCs for their iPhone 13 in July as new restrictions began.  This scramble for supply will likely cause a spike in sales and will deplete MLCC inventories.
Navigating the coming shortages
Supplier diversification is a simple method to hedge against shortages.  At Aegis Components, our sourcing structure has allowed us to weather the storms of uncertainty in the electronics industry.  Our network of suppliers has received over a decade of scrutiny and evaluation.  Our strategically placed locations around the world allow us to visit and audit the headquarters of a company before making a purchasing decision.  Additionally, Aegis Components has partners with reputable test houses to provide the appropriate inspection and testing of a part before delivering it to our customers.  Our thorough approach to procurement combined with our exceptional logistics structure has allowed us to combat counterfeit electronic components and rival the larger distributors in our industry.
Add Aegis Components to your approved vendor list, and let our team help you make strategic and well-informed purchasing decisions.
Contact us today or click the button below!