The past year was difficult for the European electronics supply chain, and subsequent supply chain interruptions are compounding these issues into 2021.
As we enter 2021, many individuals in the European electronics supply chain are anxious but optimistic.  The rollout of the vaccine in many countries has created some hope in the supply chain, but this hope is quickly trampled by the following shortages:
Global semiconductor shortage
Shipping container shortage
Raw materials shortage (graphite, lithium, sand, copper, resin, ABF, and glass substrate)
Impact of the global semiconductor shortage on the European electronic supply chain.
While it may go without saying, semiconductors are used in almost all electronic devices, from mobile phones and laptops to the brake sensors in our cars.  The EU, however, only represents 10% of global chip production.  Digital sovereignty has become a great concern, and the EU Commission stated that by 2030, their ambition is to represent 20% of semiconductor production.    Until then though, the EU is reliant on countries like China to support them with semiconductors amidst a massive shortage.  This dependence is likely to present many issues in the European electronics supply chain in 2021.  According to Businesswire, the price of many chips has risen by more than 20%.  Several chip suppliers have even extended their semiconductor lead time to over 30 weeks.  In response, analysts anticipate chip prices to increase by more than 30% in 2021.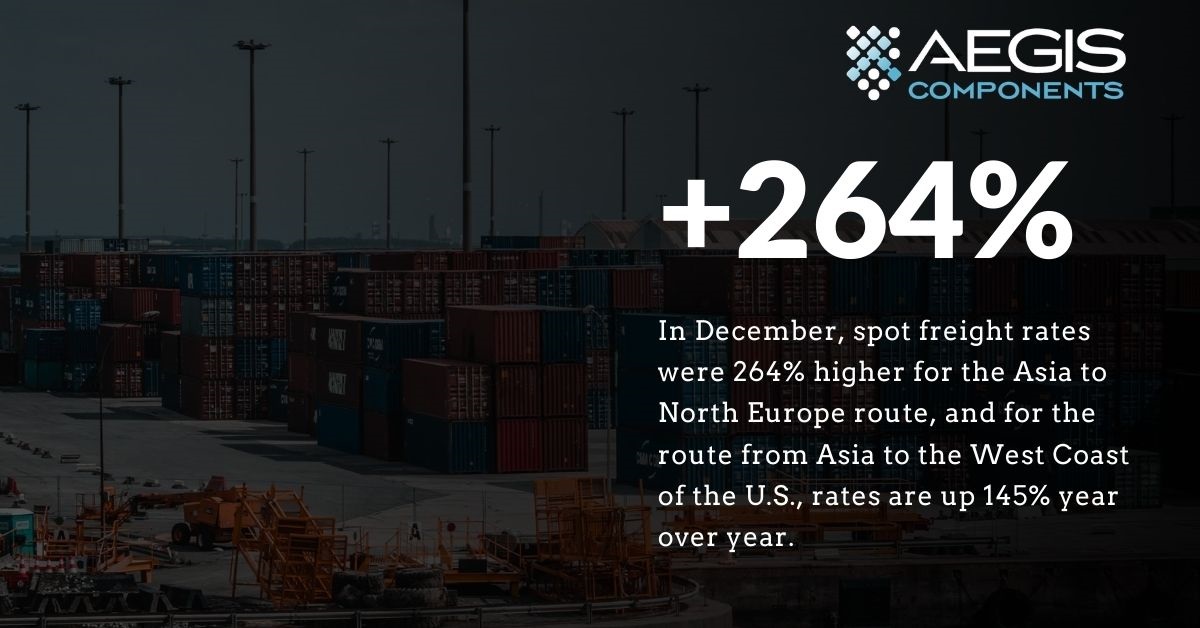 Impact of the shipping container shortage on the European electronic supply chain.
Even the mildest of disruptions of the vital passage of electronics can have a substantial impact.  The combination of a global shipping container shortage, capacity constraints on vessels, and congested seaports have become increasingly problematic over the past few months.  Electronics supply chains have already begun to notice the impact on shipping prices and delays.  In December, spot freight rates were 264% higher for the Asia to North Europe route.  As logistics professionals attempt to reconcile these issues in 2021, the European electronics supply chain is likely to experience dramatic shipping delays and price increases.
Impact of the shortage of raw material on the European electronic supply chain.
The pandemic shut down a lot of avenues for raw materials, leaving many manufacturers with idle capacity and half-finished products.  The shortage of raw materials has caused an increase in material prices, consequently impacting the prices and availability of many electronic components.  In our previous article, "Automotive Industry Facing a New Kind of Shortage", we discussed the shortage of graphite and lithium, and the effect it will have on the automotive industry.  Prices for electronic components are on an upward trend, and European electronics supply chains are not exempt.
As the electronics industry braces itself for instability, how can purchasers of electronic components prepare themselves for potentially turbulent times?  Because even the most minor supply chain hiccups can produce a ripple effect of delays and withered profits, supplier diversification is a simple but critical measure to ensure a supply chain's resilience through turbulent times.  At Aegis Components, our global network of suppliers has been vetted and refined over the last decade.  We also maintain strategically placed locations all around the world to help us locate and secure products globally and offer you the most competitive pricing and terms according to your delivery schedule.
Add Aegis Components to your approved vendor list, and let our team help you make strategic and well-informed purchasing decisions.
Contact us today or click the button below!