The supercapacitor market anticipates considerable growth in response to the following market drivers…

What is a supercapacitor?
Electrochemical capacitors, also known as supercapacitors, contain much higher capacitance values than other capacitors.  Similar to a battery, they have a positive and negative electrode separated by an electrolyte.  What separates them from batteries though, is that they store energy electrostatically rather than chemically.  This allows them to discharge energy rapidly, since they don't rely on a chemical reaction.
The problem with batteries
While traditional Li-Ion batteries contain higher gravimetric energy density, they lack power output when compared to supercapacitors.  In simple terms, batteries discharge energy slower while supercapacitors distribute their stored energy much quicker, providing a burst of immediate power when directed.  Batteries also have a much shorter lifespan than that of a supercapacitor, putting them at a disadvantage in long term applications.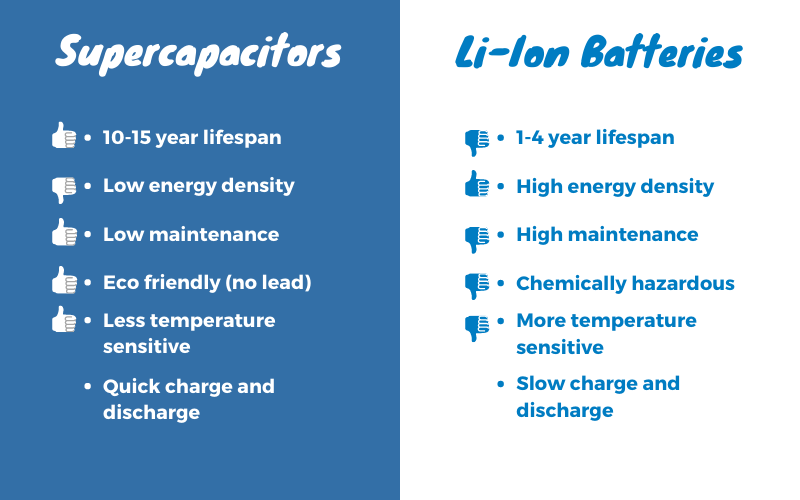 Market analysis
According to a report from Mordor Intelligence, the global supercapacitors market was valued at US $487.45 million in 2019.  They anticipate that the market will continue its expansion with a CAGR of 21.8% between 2019-2025, reaching a market value of US $150.75 million.
The primary contributors to this estimated growth are:
Consumer electronics industry – Several smart phone manufacturers have begun investing into supercapacitor charging systems.  This would make charging quicker, lower waste heat, and significantly improve the lifecycle of charging systems.
Automotive industry – In recent years, the automotive industry has placed an emphasis on reducing the dependency on oil and becoming more environmentally friendly.  Supercapacitor manufacturers are now capitalizing on the profitable opportunities in the automotive industry.  For example, Tesla Inc acquired Maxwell Technologies Inc in February 2019, and plans to explore the use of supercapacitors to speed up car charging.
COVID-19 has restricted the production of supercapacitors and electrode materials, as well as significantly impacting global consumer spending. However, as the impacts of the pandemic begin to recede, the supercapacitor market is set to surge.
Aegis Components is a family owned business and our procurement efforts are based on the principle of supplying high-quality components to our clients 100% of the time.  Our network of global suppliers has withstood over a decade of scrutiny and refinement.  Don't wait for a supply chain disaster to add Aegis components to your approved vendor list, let our team help you make strategic and well-informed purchasing decisions.