The global active electronic components market size is predicted to surpass over US$ 521.11 Bn by 2027 with a CAGR of 8.2% over forecast period 2020 to 2027.
Active components are parts of a circuit that rely on an external power source to control or manipulate the flow of electricity.  Some examples of common active components include transistors, diodes, integrated circuits, display devices, and power sources such as batteries and other sources of alternating current (AC) or direct current (DC).  According to a recent report from Precedence Research, the global active electronic components market size was valued at US$ 273.25 billion in 2019 and is expected to grow at a compound annual growth rate of 8.2% from 2020 to 2027.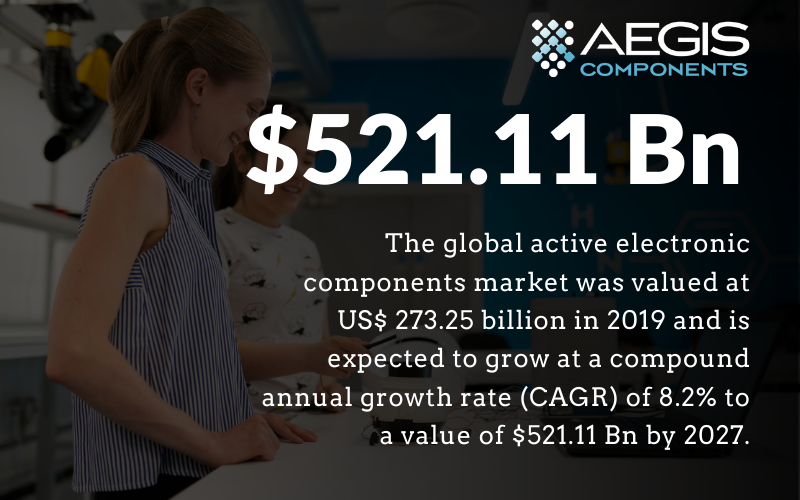 The growth of the global active electronic components market is largely attributed to the following contributing factors:
The growing demand for active electronics components for manufacturing smart home appliances such as air conditioners, refrigerators, and washing machines.
The anticipated development of 5G infrastructure, and the increased adoption of active components in the related networking devices and telecom equipment.
On-going advancements in the automotive sector will continue to drive the demand for various electronic devices, such as DC to AC converter, driver assistance system, controllers, power integrated devices, Global Positioning Systems (GPS), and many others.
The increasing demand for consumer electronics devices, such as laptops, smartphones, and wearables.
Key takeaways
In 2019, North America dominated the global active electronic components market, owing most of its revenue growth is early adoption of new technologies such as hybrid and electric cars, autonomous vehicles, and smart home devices.
Semiconductor devices segment held the maximum revenue share of early 50% in the global active electronic components market in 2019. This growth is mostly attributed to the rise in demand for integrated circuits, due to the onset of 5G network infrastructure and other new technologies.
The Asia Pacific region has been the most lucrative and fastest growing region for the active electronic components market over the forecast period. This rapid growth is mainly attributed to the region's consumer electronics market.
Sourcing active electronic components
At Aegis Components, our network of global suppliers has withstood over a decade of scrutiny and refinement.  Even the most minor supply chain hiccup can produce a ripple effect of delays and withered profits.  Add Aegis components to your approved vendor list, and let our team help you make strategic and well-informed purchasing decisions.  Contact us today or click the button below!

Sources: