As 2020 concluded, U.S. manufacturers managed to continue increasing their output.  Is this growth sustainable and what does this mean for the electronics industry?
Despite supply chain disruptions and spikes in COVID-19 cases, U.S. manufacturing activity surged in December to reach its highest level since August of 2018.  According to the latest report from the Institute for Supply Management's (ISM®) purchasing index, manufacturing activity reached a reading of 60.7 in December, 3.2% higher than the reading in November.  Any reading above 50 indicates an expansion of manufacturing activity.    ISM also reported that supplier deliveries increased to a reading of 67.6 in December, up from 61.7 in November.  This lengthening of suppliers' delivery times is generally associated with increased demand and a strengthened economy.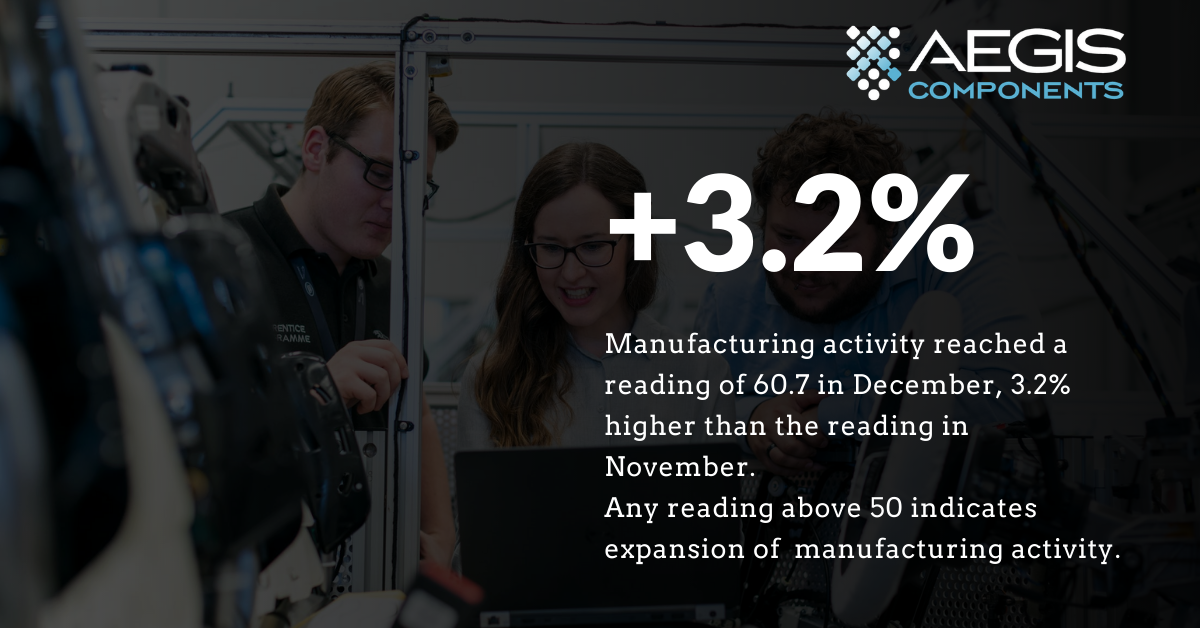 Price increases and shortages
While this continued growth in U.S. manufacturing activity is the cause for much optimism, there is another component of this study that has caught many analyst's attention.  The ISM's prices paid index revealed a steep increase in December, from 65.4 to 77.6, indicating that prices are rising at an increasing rate for products or services that U.S. manufacturers receive.  ISM's prices paid index has now reached its highest rate since 2018, and according to ISM, the commodities in short supply include electrical and electronic components, specifically semiconductors.  This is good news for suppliers, but it is not yet evident whether those prices will be passed on to the customers of the U.S. manufacturers.  As the impact of 2020's factory shutdowns continues to compound, fears of extreme shortages of electronic components and drastic price increases grow alongside it.  At Aegis Components, our network of suppliers spans around the world and has been vetted and refined over the last decade.  Even the most minor supply chain hiccup can produce a ripple effect of delays and withered profits.  Add Aegis components to your approved vendor list, and let our team help you make strategic and well-informed purchasing decisions.  Contact us today or click the button below!

Sources: