In 2019, the revenue of the worldwide electronics manufacturing services market increased by 2.5%, producing a combined ODM and EMS revenue of over $555 billion.
The worldwide electronics manufacturing services (EMS) market accounted for 42% of all electronics product assembly in 2019.  From 2014 to 2016, the revenue growth in the EMS market was steadily declining.  According to New Venture Research, a sharp upturn occurred in EMS market revenue in 2016-2019, rising from $329,217 billion to $443,613 billion.  This growth was largely attributed to the rise in demand for communications infrastructure and enterprise storage systems.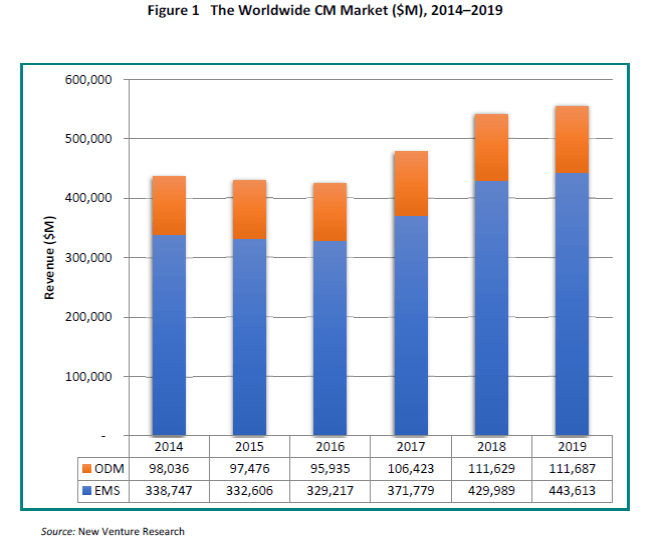 What does the future hold for the EMS market?
Electronics manufacturing services have been dramatically affected by the COVID-19 pandemic in 2020.  Aerospace, industrial, computers and communications segments are predicted to continue their growth in 2020 and beyond.  Contrarily, the transportation industry (commercial airlines & automotive) have been impaired as a result of the restrictions of air travel and transportation.  Additionally, the retail sector (wearables, TVs, smart home devices) is forecasted to see a large downturn as spending has diminished under the fear of a global recession.
However, regardless of the obstacles that COVID-19 has presented, many market forecasts have been relatively optimistic.  Mordor Intelligence predicts that the EMS market will register a compound annual growth rate (CAGR) of 6.8% from 2020-2025.  Market watchers agree that the growing focus of most industry players towards cost reduction will be a driving factor in the adoption of contractual electronics manufacturing.  Many companies will continue seeking to lower the inventory, facilities, and equipment involved in their manufacturing, while shifting their focus towards sales, marketing, and R&D.  The highest growth rates are expected in the medical markets for products such as ventilators, monitors, and coronavirus test equipment.
Following the peak of COVID-19's spread, electronics manufacturers are beginning to resume production and the industry is progressing toward a degree of normalcy.  If your facility has resumed production or is preparing to, we invite you to contact us today.  Aegis Components' procurement efforts are based on the principle of supplying high-quality components to our clients 100% of the time, and we are eager to fulfill any of your electronic component requirements.  Contact us today!