How Will War in Ukraine Affect Logistics
Beyond the human tragedy, the war in Ukraine is also impacting freight and supply chains in multiple ways, from sanctions to higher fuel costs and disrupted capacity.
In terms of logistics, the most widespread impact across all modes of transportation will likely be the spike in fuel costs.  Following Russia's announcement of its "special military operation", U.S. crude oil spiked to a 13-year high of $130.  As the price of oil quickly rises, carriers will be forced to pass the increased costs on to shippers.  In addition to the rise in oil prices, logistics professionals are also facing the following key disruptions:
Air cargo shippers on Asia to Europe lanes should expect a hike in prices after a substantial amount of capacity has come out of the market through grounded Russian carriers and canceled flights.
Air cargo carriers that continue to fly will need to circumvent Russia. The additional fuel required for a longer route will increase shipping costs upfront, but the added weight of the additional fuel will also reduce cargo capacity.
Diverted ships and ocean carriers suspending new bookings to Russia could result in congestion at alternate ports in the region and pileups at origin ports around the world.
While container rates have been relatively stable, they are expected to rise globally due to the rising fuel costs, as well as possible War Risk Surcharges.
If sanctions or fear of disruption shifts significant numbers of containers from Asia-Europe rail to ocean, this new demand will also put upward pressure on Asia-Europe ocean rates.
Air Freight
Beyond the rise in oil prices, the war has grounded much of the Ukrainian Antonov freighter fleet, removing that capacity from the market as well as destroying the world's largest freight aircraft.  However, the larger disruption will be from the multiple countries banning Russian air carriers from using their airspace, and Russia is expected to impose the same bans.  Many carriers may decide to cancel their Asia-Europe services, further restricting air cargo capacity.
Ocean Freight
Most ships near Ukraine have been diverted to alternate ports and many of the top ocean carriers have suspended new bookings to or from Russia.  This sudden shift will increase volume at other regional ports and is already causing pile-ups at origin ports in Europe and elsewhere.
The impact of these logistics complexities will inevitably trickle down to every party in the supply chain.  Each time your products change hands, the end user's price increases.  To limit the impact of these rate increases, buyers of electronic components must evaluate every link in their supply chain.  At Aegis Components, our purchasing is concentrated towards franchise and manufacturer direct lines.  This allows us to eliminate the shipping cost and profit margin of intermediate parties.  We also maintain strategically placed locations all around the world to help us locate and secure products globally and offer you the most competitive pricing and terms according to your delivery schedule.
Add Aegis Components to your approved vendor list, and let our team help you make strategic and well-informed purchasing decisions.
Contact us today or click the button below!
Related articles:
Automakers Forced to Shift Supply Chain Models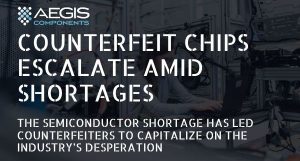 Counterfeit Chips Escalate Amid Shortages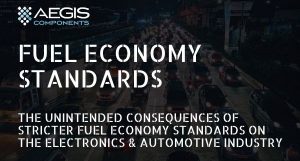 The Unintended Consequences of Stricter Fuel Economy Standards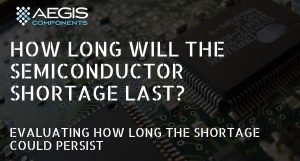 How Long Will the Semiconductor Shortage Last?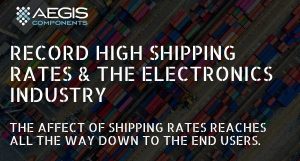 Record High Shipping Container Rates and the Electronics Industry
Connect with us on social media!