The Electronic Component Shortage Worsens: How to Prepare Your Supply Chain
Additional price and lead time hikes have led analysts to believe the electronic component shortage could continue longer than previously expected.
The electronic component shortage is likely to get worse before it gets better. As a result, electronics prices are on track to rise this year, and prices are predicted to remain higher through 2023.  With upcoming price increases, continued shortages, and longer than average lead times on crucial electronic components and raw materials, electronics component buyers must do what they can to prepare now to better manage these circumstances.  On average, the past quarter saw increases in electronic component prices by 5-40%. Additionally, lead times for these components have rapidly increased. For example,
Microchip Technology has begun telling manufacturers to expect up to 50 weeks before order fulfillment. The company has also begun requiring new orders to be no cancel, no return (NCNR).
STMicroelectronics Asia Pacific has notified its distributors about price increases for all its product lines in the second quarter of 2022.
NXP is expected to increase all product prices by 15%, effective July 14, bookings are backlogged to 2023.
Intel is expected to increase its pricing by 7-10 percent across all server CPUs in Q4.
Infineon's lead times have increased, from an average of 48 weeks to 60 weeks.
These Q1 2022 price and lead time increases came after similar increases in Q4 2021.  Due to large manufacturers paying top dollar for semiconductor commitments extending over 52 weeks lead time, there is little incentive for chip suppliers to get lead times under control this year.
Additional price increases coming soon
According to CNBC, the world's biggest chip foundries, including Samsung, Intel, and TSMC, are considering price hikes due to inflation and the rising cost of chemicals and other raw materials. The price increases will help these foundries offset these costs, drive ongoing initiatives like reshoring, and keep on target for growth this year.  Foundries have already increased their prices by 10-20% in the past year. However, due to the ongoing shortage of semiconductors, chip foundries have a great deal of freedom when it comes to pricing. When supply is limited, electronics manufacturers and other businesses that depend on semiconductors will take what they can get in terms of pricing.
Many experts are unwilling to suggest when prices could return to normal or when the component shortages that have caused the price increases will end.  Analysts predict that component prices will rise so long as manufacturers face uncertainty around labor, supply, and logistics. Barring any unforeseen circumstances such as a new lockdowns or economic disaster, analysts estimate the shortage of electronic components will continue well into 2023.
Preparing your supply chain
Buyers of electronic components must prepare now for future price increases, extended lead times, and persistent supply chain challenges.  Moving forward, if price and lead time increases continue, JIT (just-in-time) purchasing may become less and less viable. Instead, buyers may need to adopt a "just-in-case" business model, holding onto excess stocks and finished products in anticipation of long lead times and supply chain disruptions.
Communication with both customers and suppliers will also be essential as shortages and supply chain disruptions continue.  Regular communication with suppliers will help buyers prepare for rising lead times and stay aware of changing market conditions.  Regular communication with customers will help customers manage expectations regarding potential delays, price increases, and lead time growth.  This is essential to soften the impact of this news or at least ensure customers are not caught off-guard by the sudden changes in this chaotic market.
Most importantly, buyers of electronic components must take steps to expand and refine their supplier network.  Managing your supply chain in times like these requires each link of the chain to work as a cohesive unit.  Distributors that operate more like a broker than a partner cannot weather the storms of this market.  Communication and transparency are essential for managing and planning production.  At Aegis Components, we have hedged our customers against these market conditions through the following means:
Our network of suppliers has received over a decade of scrutiny and refinement.
Our strategically placed locations around the world allow us to visit and audit the headquarters of a company before making a purchasing decision.
Aegis Components has partnered with reputable test facilities to provide in-depth inspection and testing of a part before delivering it to our customers.
Our purchasing is concentrated towards franchise and manufacturer direct lines.
Our account managers are dedicated to providing the highest level of service, communication, and transparency. Beyond simply taking orders, your account manager will help you develop solutions, plan inventory and delivery schedules, maintain stock levels for your recurring purchases, and ensure the authenticity of your parts.
Add Aegis Components to your approved vendor list, and let our team help you make strategic and well-informed purchasing decisions.
Contact us today or click the button below!
Related articles:
Automakers Forced to Shift Supply Chain Models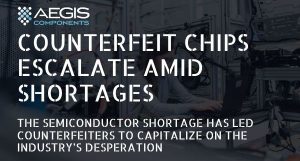 Counterfeit Chips Escalate Amid Shortages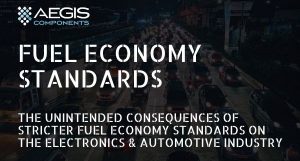 The Unintended Consequences of Stricter Fuel Economy Standards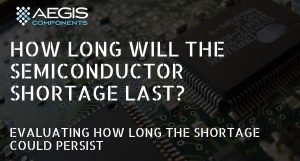 How Long Will the Semiconductor Shortage Last?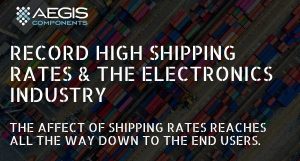 Record High Shipping Container Rates and the Electronics Industry
Connect with us on social media!